A Perfect Option For You
---
Not all veterans can go on an actual Honor Flight to Washington, DC, but they still are deserving of our thanks and gratitude. Some think the day is too long; a doctor or family member may believe it would be too tasking; or maybe your service dates don't fall within the war service dates provided to us by the Department of Veterans Affairs (non-conflict veterans) or other various reasons.
We have the perfect alternative for you. We call it a VIRTUAL HONOR FLIGHT. During this special program, we will celebrate, honor and thank veterans who defended our freedom and way of life so many years ago.
If you are a veteran unable or unwilling to go on an actual Honor Flight, we would still like you to apply, but for a Virtual Honor Flight. They take place at a local public school or other various locations. The Virtual Honor Flight has all the features of an actual flight. You will receive the same flight gear, have your photo taken, be served a private dinner with other veterans, enjoy a high school performance of a "USO" type show and watch a special presentation of an actual Honor Flight showing the day's activities and Washington, DC memorials built in your honor. Several surprises are also planned for the veterans as we honor them for their sacrifice and service to our nation. This event is free, no charge to anyone.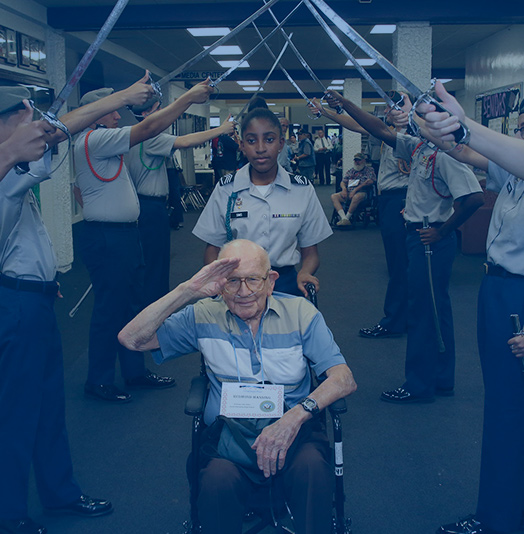 To attend a Virtual Honor Flight, the same procedures apply as for an actual flight. We require a copy of your DD214 and/or Discharge form and you must fill out a Veteran Application. This can be done online or with a paper application. Both can be found at the Veterans tab on our website -- honorflightsouthflorida.org -- or call our toll free number-1-855-359-1838.
Please note in the comment section that it is for a Virtual Honor Flight.
The number of Virtual Honor Flights each year is dependent upon the number of veterans on the waiting list. You will receive a timely invitation in the mail when we schedule our next Virtual Honor Flight. Each veteran is allowed to bring one guest to accompany you throughout the event from late afternoon into early evening, approximately three to four hours. Others may accompany you, but will have to proceed directly to the auditorium for the show. We can accommodate only one guest per veteran for dinner.
We have had many Virtual Honor Flights, and many happy and satisfied veterans. Please join us for a flightless, shortened time of honor and appreciation.
Interested In Taking An Honor Flight?
Feel free to contact us for more information or fill out our easy online application to get the process started.
Apply Now!