Unforgettable Experience
---
Your trip with Honor Flight South Florida will be a long and emotional day. Yet, we are confident it will also be a day of exhilaration and renewal. Past Honor Flight participants have told us that next to their wedding day and the births of their children and grandchildren, Honor Flight is one of the best days of their lives.
To prepare yourself for this trip, please make sure you get plenty of rest and nourishment, especially fluids, during the days leading up to your flight. We will provide plenty of bottled water and will continually remind you to keep drinking it.  Restroom facilities are available at the airport, on our chartered aircraft, in our deluxe motor coach buses and near the memorials.
The day starts early. You must arrive at the airport between 4:15-4:45 a.m. This early arrival allows time for checking in, a studio picture of you and your guardian, processing through TSA security and enjoying a breakfast at the gate before boarding the plane to Washington, DC.  Once we arrive and after a quick stop at the restrooms, you will immediately board our buses and head toward our Nation's Capital. We arrange for a police escort throughout the day so we can expeditiously traverse through Washington traffic.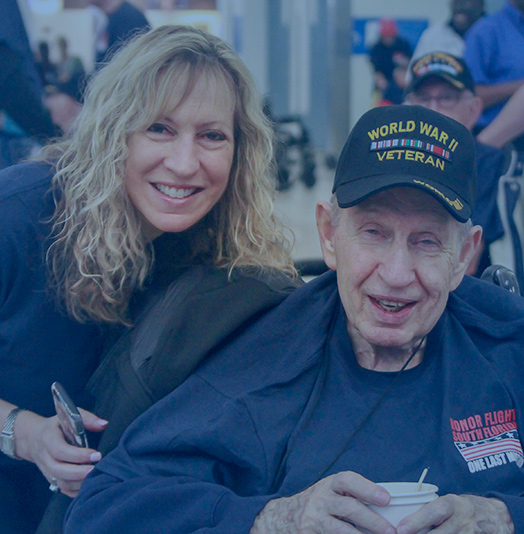 The highlight of every trip is our visit to the war memorials.  The World War II, Korean and Vietnam memorials are all located within walking distance of each other, although you will have access to a wheelchair.  You will have ample time to soak in the symbolism and take in the beauty of all three.  Every trip includes time at Arlington National Cemetery where you will have special seating to observer the stirring Changing of the Guard.  We also stop at the Marine Corps Iwo Jima Memorial where we typically arrange for a group photo.  If time allows, we drive by the Air Force Memorial where you can also get a glimpse of the Pentagon.  Other various buildings and sites will be pointed out along the way. 
We provide wheelchairs (we call them Honor Chairs) for every veteran.  We have found that even the most able-bodied veteran may tire by the end of the day.  If that is the case, please know that Honor Chairs will be available for you.
After our day in DC, we will board the buses for our trip back to the airport. There will be another security screening for the return flight. Once we land back in South Florida, your guardian will make sure that you return safely in the arms of your loved ones after your long day. Oh, yes, there may be one or two more surprises on the way home…but we want you to discover those for yourself.
Interested In Taking An Honor Flight?
Feel free to contact us for more information or fill out our easy online application to get the process started.
Apply Now!