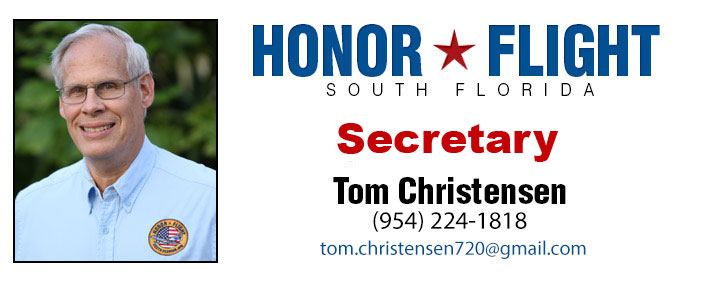 Tom's Dad was a World War II Navy veteran and his father-in-law an Army veteran. He would have loved to have taken them to see the World War II Memorial.
Always interested in history, Tom says it's like being a part of living history to go on an Honor Flight. He served as a guardian for a 95-year-old veteran on his first Honor Flight. He has visited Pearl Harbor and Omaha Beach and has immense respect for all who have served.
Growing up in Chicago, Tom turned his love of sports into a career. He spent 30 years working in the Sun Sentinel sports department, much of the time supervising coverage of the Marlins and their two World Series championships, many Heat playoff runs, Miami Hurricanes, college football and basketball, golf, horse racing and auto racing.
He lives in Plantation with his wife Sue, a retired kindergarten teacher. They have two daughters. Amy lives in Davie with her family and Carrie lives in Arlington, Va., and within walking distance of all the monuments on the great Honor Flight itinerary.
Interested In Taking An Honor Flight?
Feel free to contact us for more information or fill out our easy online application to get the process started.
Apply Now!