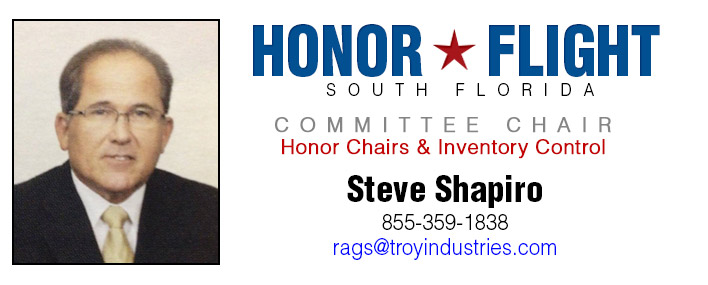 CEO and President of Troy Industries, Inc., Florida's Oldest and Largest Wiping Cloth Companies, Iin business since1947.
Steve lives in Plantation with his Wife Marcie, who helps with our Homecomings, along with their son, Benjamin.
Steve has been involved in many organizations since High School (1967). Graduated from the University of South Florida, Mass Comm/Business 1972; Served in The Florida National Guard, Military Police 1970-1976; Cooper City Volunteer Fire Dept. 1976-79; Florida Highway Patrol Aux. 1982-87
Steve is very proud to do his part for Honor Flight. His five man crew, store, clean and repair our HONOR CHAIRS, and his company truck deleivers and returns the honor chairs used by the veterans on all our flights as well as local events as needed.
He also handles our T-Shirts, Hats, Pillows, Blankets ,Ponchos, Gloves, Signs, Posters and
KLEENEX which as you know, are need on every flight.
Interested In Taking An Honor Flight?
Feel free to contact us for more information or fill out our easy online application to get the process started.
Apply Now!