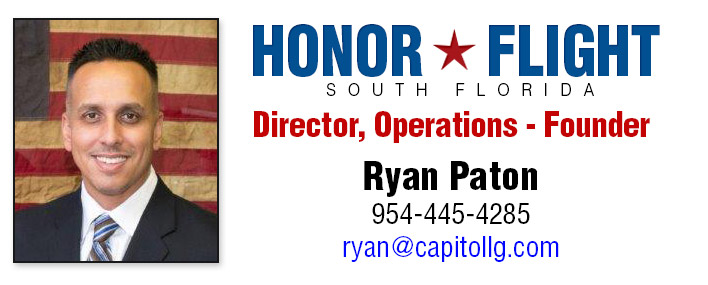 Ryan is the Owner and President of Capitol Lending Group, a Fort Lauderdale based residential Mortgage Company. Ryan was born in Smithtown, NY but was raised in Coral Springs FL. After attending the University of South Florida (in Tampa), Ryan moved back to South Florida where he currently resides in Fort Lauderdale.
One of the original Founders of HFSF, Ryan currently serves as the Director of Operations and among other areas, oversees all Airport and Homecoming operations for our South Florida Veterans. Ryan is involved with numerous volunteer organizations in South Florida, but serving his local Veterans has not only become a passion for Ryan, but has also been a tremendous honor and privilege as well.
Interested In Taking An Honor Flight?
Feel free to contact us for more information or fill out our easy online application to get the process started.
Apply Now!