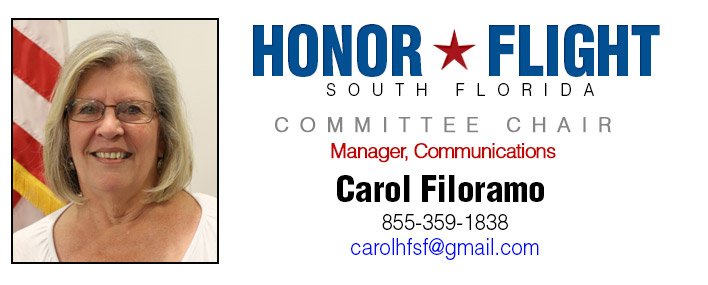 Carol, born and raised in New York, moved to Coral Springs, Florida in 1978 with her husband Bob, and three small children.
She was very active in her children's activities, coaching soccer and a Board Member of the Drill Team of Coral Springs High School. She and Bob are now proud grandparents of five grandchildren, all of whom live in the area.
Carol formed and became President of Medical Transcription Associates, a business that caters to the transcription needs of many physicians and lawyers in the South Florida area. She is still running that business.
In addition to Honor Flight, Carol's interests include quilting, reading, cooking and spending time with her family.
She and her husband have been active members of Honor Flight South Florida almost since its inception. They assist in fund-raising, recruitment, flight day ground crew, mail call and many other activities associated Honor Flight. This is their favorite organization to spend time with.
Interested In Taking An Honor Flight?
Feel free to contact us for more information or fill out our easy online application to get the process started.
Apply Now!