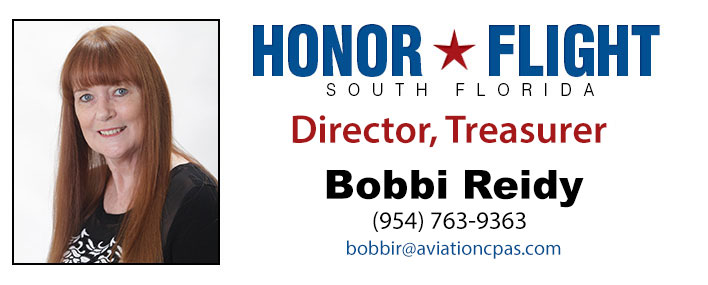 Bobbi was born and raised in Miami Florida. Her education was always focused on business as she knew where her strengths were.
She is a Partner/Owner of Aviation CPAs located in Fort Lauderdale which is a CPA firm with a practice limited to aviation and aviation-related companies. The company also owns and publishes Flight Tax Systems, an aviation tax software. The firm's client base includes aircraft owners, flight departments, airlines, charter operators, and commercial pilots. Bobbi worked for the prior owner and founder of the firm, Jed Wolcott, for a total of 30 years prior to the acquisition with 3 other Partners in September of 2020. She has been doing financial work for Honor Flight South Florida since 2015 and was named Treasurer in 2020. She was recently nominated as a Director to the board.
She enjoys serving others and has her entire life. Watching the joy that this organization gives to Veterans is something that no amount of money or gift could ever compare to. It's part of her biggest joy to help make this a reality. Her family is everything to her.
Interested In Taking An Honor Flight?
Feel free to contact us for more information or fill out our easy online application to get the process started.
Apply Now!