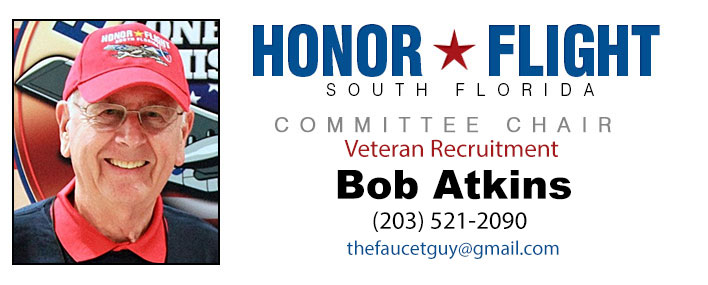 Bob and his wife Karen have been married for over 50 years.  They both grew up on Long Island, 30 miles from NYC and have known each other since High School.  They have a son and daughter and two grandkids.  Bob & Karen reside in a condo overlooking the beautiful new Pier in Pompano Beach, where Bob is the President of the Board of Directors.
Bob went back to college on the G.I. Bill after serving in the U.S. Army in Vietnam in 1967-68.  He climbed the corporate ladder at various well-known companies in the plumbing products industry and retired as the President of Grohe Faucets, a world-wide leader of high-end German engineered faucets and shower products.
Bob holds a commercial pilot's license and is a 2nd generation pilot.  His father was a WWII pilot and spent his career after the war as a pilot for American Airlines.  His mother was also an aviator and earned her pilot's license in a government sponsored training program.  Bob's son continues the family flying tradition as a Captain with Atlas Air Cargo flying 747's and 767's.  His daughter is an architect and lives with her husband in Seattle.
After being recruited by a friend and active Honor Flight volunteer, Bob made his first flight as an "Elite Guardian" for a 93-year-old WWII Army Veteran who landed on Omaha Beach on D-Day.  Since then, he has flown as a guardian 3 more times and once as an Honor Flight staff volunteer.  He has also escorted 4 Veterans to "virtual" Honor Flights and participated in numerous other fund-raising and recruiting events.
"It's a privilege and an honor to be associated with a group of volunteers who have a huge passion for helping our revered Veterans experience the memorials in Washington DC that are dedicated in their honor."
Interested In Taking An Honor Flight?
Feel free to contact us for more information or fill out our easy online application to get the process started.
Apply Now!