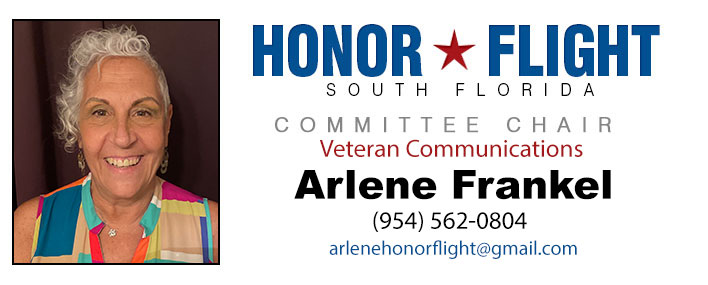 Arlene, born and raised in The Bronx, New York, and moved to Florida in 1976 with her husband Arnie, a Vietnam Navy Veteran who is also an active volunteer with Honor Flight South Florida. They have two grown children and a granddaughter. Arlene retired in 2013 from her career as a medical assistant for most of her life.
Arlene is one of 4 children, her father served as a Staff Sergeant during WWII, 4 of her uncles also served during WWII and her brother was in the National Guard. Growing up hearing all of the stories her father and uncles shared, she hoped when she retired she would find an organization to volunteer with that would make her father proud, and HFSF was a perfect fit.
Aside from being the Chair of Veteran Communications, Arlene is always ready to take on any task asked of her. She spends a lot of time recruiting Veterans, fundraising, flight day ground crew, flight crew and anything associated with HFSF. Bringing joy to all the Veterans Arlene comes in contact with is always shown though the smile on her face and she is very grateful for the opportunity to be involved with HFSF.
Interested In Taking An Honor Flight?
Feel free to contact us for more information or fill out our easy online application to get the process started.
Apply Now!