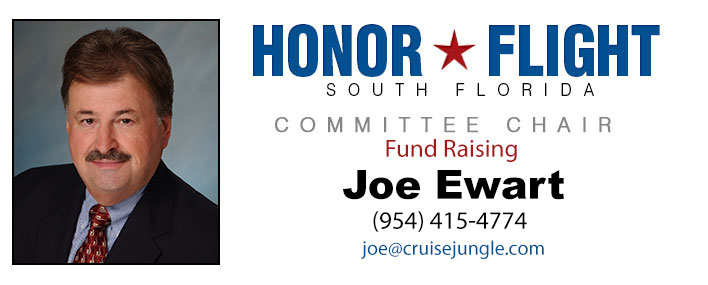 Joe is a U.S. Army Vietnam Veteran. He served as a member of the 11th Infantry Brigade, Americal Division in country from July 1969 to July 70 and received the Combat Infantry Badge. After leaving the service in 1971, he embarked on a 45+ year career in the travel industry.
He started his career as Director of Marketing Services with Norwegian Caribbean Lines. In 1984, he founded the first cruise only franchised travel agency chain, Cruise Holidays International in Los Angeles.
Ewart also served in executive capacities at several small cruise lines including Gold Star Cruises and SeaEscape Cruises Limited where he was Chief Operating Officer. In 1999 he joined CruiseOne as Vice President of Sales, Marketing and Recruitment and retired in 2008.
In 2005, he was inducted into the Cruise Lines International Associations Hall of Fame in recognition of his contributions to the retail cruise sector. He is married and has two children and three grandchildren. Residing now in Plantation, his family has lived in S. Florida for 30 years.
As the newly appointed Chair of the Fund Raising Committee, Joe stated, "I am most happy to be part of Honor Flight South Florida and to join the many other volunteers to work together to deliver this incredible opportunity to recognize and give our heartfelt thanks to our aging veteran community."
Interested In Taking An Honor Flight?
Feel free to contact us for more information or fill out our easy online application to get the process started.
Apply Now!