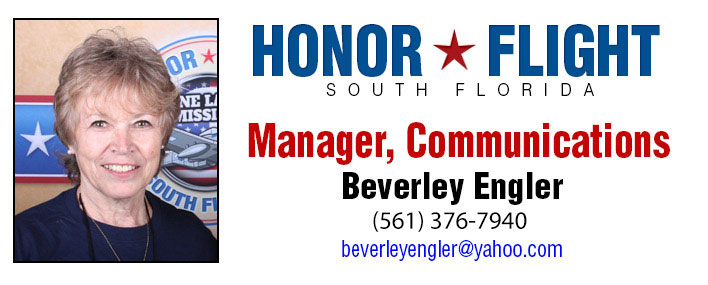 Bev was born, raised, married and started her family in the Buffalo, N.Y. area. Having survived as a stay-at-home-mom to two wonderful children, she went to college to become a special education teacher from which she is retired. Her leisure time in now spent in Christian and political activities and most recently, Honor Flight.
Bev's father was a proud WWII veteran, her brother served in Germany during the Vietnam era, and her husband retired as a Lt. Col. having spent 33 years in the NYS Army National Guard. Military ties run deep in her family. After attending an Honor Flight Homecoming in the fall of 2013, Bev became committed to honoring and serving our veterans by joining Honor Flight South Florida as a volunteer.
Interested In Taking An Honor Flight?
Feel free to contact us for more information or fill out our easy online application to get the process started.
Apply Now!